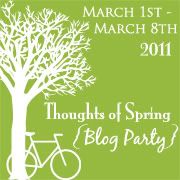 Oh spring, please oh please come soon. You have taunted me with a glimpse of your sunny skies, breezy weather, and warm air. Come and stay, hmm? I will love you forever if you do.
I'm linking up, and perhaps you shall learn a bit more about me, eh? Enjoy. :]
How would people describe your personality? (If they could only use ONE word.) Are they right?
Weird? Sure. Witty? I flatter myself, yes. Engaging? If by that you mean talkative, yeah. Stubborn? Probably deserve that one. Passionate? Mmhmmm, that too.
What celebrity/celebrities would create a "Star-Struck" feeling if you saw them in real life?
Well now. Probably Liam Neeson...and if he spoke, I'd be gone. His voice...gahh, I love it. Idina Menzel (she starred in the original cast of the Broadway Wicked...such a beautiful singing voice), and also Alfie Boe (my newest "old guy crush"...haha, not really, because he's not that old, but he starred in the the 25th anniversary concert of Les Mis...tremendous voice). Whoa, I have a thing with voices going here. Also, probably Mike Donehey from the band Tenth Avenue North (voice? *ahem*), and Gwyneth Paltrow. And though I cringe to say it, because I may recieve some teasing, but I'm a Johnny Depp fan. He's Jack Sparrow, guys! I can't help it! And then, Audrey Hepburn. Love her.
Who is your favorite blogger? Why?
Ohh, unfair question. I like many for different reasons. I'll give some credit to my sister, who is my favorite blogger by far (best friend, no?), with her blog
Bonjour Bright Eyes
. I designed it...go check it out! And I've had fun obsessing over Les Mis with Larkin at
Libri
lately. <insert large grin>
What is your comfort food/drink?
As C.S. Lewis said, "You can never get a cup of tea large enough or a book long enough to suit me." I love raspberry tea. And though it's the typical girl answer, chocolate does make bad days at least a little better.
Be brave – tell us something very random and weird about yourself.
Random and weird, random and weird...so many options. I shall tell you this: When I was little--probably about 5--I told my mom I wanted to get married when I was 17 and have a thousand babies. Heh, can I say that my plans have changed since then?
Do you have a strong desire to do something you've never done? What is it?
Yes indeed, lots of things. Travel the world is a big one. I'd love to write a book someday, and I'd like to fly a plane. ;)
Movies: Action, Drama, Romantic Comedy, Documentary, Comedy? What are your favorite genres?
Oh, I like a bit of everything. I like chick flicks, but I can only take so much of them if they're cheesey. Musicals make me super happy, and if I'm in the mood for them, comedies too. Action and drama and oldies get added in there as well...it all depends on what I feel like.
Books: Fiction, Non-Fiction, Romance, Biographies, True Stories, Self-Help, Devotional/Study? What are your favorite types of reading material?
Without hesitation: classics. ALL THE WAY. Once you read enough classics, you get ruined for anything else. (I speak from personal experience. =P) I love things like Alexandre Dumas, J.R.R. Tolkien, Victor Hugo, Jane Austen, Charles Dickens, Jules Verne, C.S. Lewis, Harper Lee...just to name a few. And if it's not classic...I'd say fantasy and historical fiction are usually up my alley.
Music: Funk, Rock, Country, Jazz, Classical, Film Score, Blues, Classic Rock, Crooner, Alternative, Heavy Metal, Techno? What are your favorite types?
I like contemporary Christian music mostly, and then I love listening to film scores and classical music. Aaaand scores from musicals are the bomb.
If you inherited a million dollars, what is the first thing you would do with your money?
Selfishly, or being a good person and giving it all to people who need it a lot more than me? Besides donating to organizations that try to stop abortion and human trafficking, I'd get a whole new wardrobe and an awesomesauce camera and lenses, travel anywhere and everywhere, and buy myself a villa on the Mediterranean. :) And then pay for college if there was anything left after that.
Name one weakness of yours (confession is good for the soul).
Paper. I love paper waayyy too much. I have a gazillion and one notebooks, and even more stationery sets, and I could keep buying more and more. It makes me so happy. I still have random collections of paper from when I was really little.
If you could live anywhere at all (and take all your loved ones with you), where would you go?
Oooh, this is so hard. I would probably go somewhere in Europe, and I imagine it'd end up being France. As much as I want to travel so many other places, Europe has so much history to it. And plus, France is right in the middle of it all, so I'd do lots of weekend trips (to Ireland, and Italy!). And I love the language...so romantic.
Strange Talent? Can you juggle basketballs, put your legs behind your head or perform some other strange feat?
Uhhmmm...I can roll my knuckles...which is really hard to explain if you can't see it. But people think it's the weirdest thing.
What's something you consider yourself to be good at? (Don't worry, it's not bragging, it's acknowledging a God given gift).
Weeell, piano for one--I'm not incredible at it, but loving it counts toward anything, then I'm pretty good. And I think my photography is improving. And, I'm good at befriending people. So I'm told. And one thing I won't deny that I'm especially good at is laughing.
What is one of your favorite things to catch a whiff of?
Weird as it may sound, smoke. Like the wispy curly pretty smoke after you've blown out a candle. I love that smell.
When you leave a social gathering, do you wish: You would have talked more or you would have talked less?
I generally wish I would have said less, and listened more. I love to talk, but sometimes I facepalm and tell myself, "shut up!"
If money wasn't a factor, what stores would you shop in?
Ehh, so I'm not the greatest shopper in the world. I'd probably just keep visiting my same old places, but actually buy more.
What is your greatest fear or strange phobia?
Dr. Seuss, no lie. Clever rhymes, scaaaarry pictures. And old ladies who are either knitting (thanks to A Tale of Two Cities) or in rocking chairs (thanks to a creepy book that I read when I was really little where this old magical lady would randomly show up places out of no where...in her rocking chair. *shudder*). I get the creeps thinking about it.
What is your greatest accomplishment?
Huuhhh? You have to give me more life to live, and then ask me that! I was pretty proud (read: ecstatic) about making a part in the play I'm acting in.
What are your favorite animals?
I'm not the big animal type. But I like cats...and not just house cats, okay? Tigers are cool.
Are you a hopeless romantic?
Depends on your definition. In real life, it differs. In alternate realities (boooooks!), yes, yes, and yes.
What movie or book character can you most relate to?
Oh my. I've been told I'm like Emma from Austen's novel. Strange as it may seem, I feel as if I can relate to Sam from Lord of the Rings. xP And I think a lot like the character Daniel from The Bronze Bow sometimes.
I shall end with this lovely picture of springyness. I took it last year...and even though it's not quite in focus, I still love it. It shows new life bursting forth. :)