Friday was the first performance of
Little Women
, the play I've been rehearsing ever since November. It's been a lot of fun and a lot of work, and these past two weeks we've been having our dress rehearsals and have been focusing on getting down the details. After and okay-ish rehearsal Tuesday, Thursday we all kinda went, "Hey, we got this!" And then Friday came. Honestly people, I love acting. My personality type is "performer" for a reason. But, gosh sakes...Friday came and suddenly it hit me that "Dude, you're gonna be in a play tonight."
If you know anything about the story, I play Amy, the little prim-and-proper brat. ;] It's SO much fun to play, trust me. My sister Cassie is Jo, the main character and tomboy. We ran through lines on the drive there (while freaking out that we were going to be late because of rush hour traffic), and when we got to our wee little theatre we checked props and costumes and such and hyperventilated and ate cookies until it was time to get into costume. And then, the play began.
And seemingly just as suddenly, it was over. But it was
awesome
.
I don't think we had ever done it as smoothly ever before. It was so much easier and so much more
fun
to act it out with an audience. Honestly, at intermission, we were all looking around saying, "Whoa, this is great!" After the play, me and my fellow thespians headed outside so people could see us as they came out. Two of my very dear friends came to our opening night, and a couple people brought me flowers, and then of course complete strangers came up to congratulate us all, and it was just happifying. :)))
Afterwards the cast went to Dairy Queen to hang out, which was an absolute blast. Honestly, I love all these people. They're so amazing. God really blessed us all in that area...we've become such good friends. Cassie and I spent the night at Ruthie's house (she plays Meg), and the next day headed to our little theatre to perform again. I'll admit, curling my hair massively a second time wasn't nearly as fun. ;P
For our second performance, my family was there. It was also a dinner theatre, so we had to get there extra early (and ate pizza--oh yes!). After hanging out for a good while downstairs, we headed up again, got in our costumes, prayed, and the play began. It too went really well, though there were a few mix-ups that we covered up okay--we just freak out inside, that's all. =)
The audience last night was fantastic--they were really into it--laughed, cried, and reacted in all the ways they should to make acting it out totally worth it. A little girl came up to all of us afterward and wanted our signatures on the program...it was so sweet. And then we all hung out afterwards again.
Anywho, we have another performance tonight. We'll have three next weekend too. I was dreading curling my hair
again
, but I think I've finally got the hang of it (as in, it only takes me about an hour now...=p). I'm excited...once again. Oh, how I love this. I had wanted to be in a play of some sort for ages, and honestly, you have no idea how obviously God had his hand in all this. Just getting a part and working out my schedule so I could do it and having the people in it that are in it...it's been amazing.
While we're at it, I have two photos I'd like to enter in a photo contest...and they just happen to be of Ruthie (Meg) and Lauren (Beth)...aren't they gorgeous?? We are seriously one cute group of March sisters.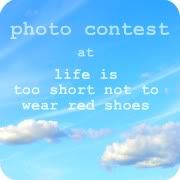 I love these girls. :) And I've been having soo much fun this weekend.
***EDIT***
Hehe, so I just had to say...tonight's performance was great. Better than yesterday, I thought. And also, I am going to be sooo happy not to curl my hair and smother it with hairspray tomorrow. :]