It's a day later, when most of us are probably recovering from stuffing ourselves with all of the incredible food that makes its way to our tables during this time of the year. It's all worth it though; Thanksgiving dinner is honestly one of my favorite meals of the whole year.
I got to sleep in--hardcore, till 1pm--yesterday, which was absolutely wonderful. The rest of the afternoon was busy but relaxing as preparations took place. My family usually celebrates Thanksgiving with my dad's side of the family, and if not with them, we go to my mom's side. But this year none of our relatives had a big Thanksgiving celebration--and though at first I was afraid this would jeopardize all the good-food-eating plans I had, it ended up being really nice. We just had my adopted "aunt" and "uncle" (friends of the family) over for dinner and dessert.
One word:
yum
.
And after that, I went and met a few friends at the mall to do "black Friday shopping"--which incidentally didn't start (because many places hadn't opened yet) until we were about to leave. But it was fun all the same.
I have so so so many things to be thankful for. I take half of them for granted, I know--but recently I was challenged by this question:
"What if you woke up today with only the things you thanked God for yesterday?"
Puts a new perspective on things, hmm? Well here's a list of things I am grateful for, from
a
to
z
. Trust me, there's lots more besides.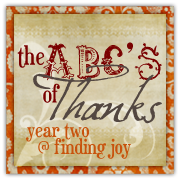 Linking up my abc's of thanks. God is good.
So, happy Thanksgiving, a day late. :)
How was your day, friends?
What are you feeling thankful for?